Superior strength, sustainable style
Prolam PL12 Glulam Beams put contemporary design in the frame.
With exceptional weight to strength ratio, PL12 Glulam Beams allow for maximum loads over large spans, expanding the horizons for residential and commercial building design and construction.
The beams are made in New Zealand from select quality pine using state-of-the-art manufacturing technology, making them the smart and sustainable choice for today's build.
A cut above
• Superior strength and load carrying capacity
• High dimensional stability (no twisting or warping)
• Available in a wide range of sizes and lengths
• Custom sizing available
• Visual and non-visual grades
• Exterior and interior treatment options
• Pre-cambered beams available on request
• FSC certified timber options available
Design flexibility
PL12 Glulam Beams have higher strength and stiffness properties than PL8 glulam beams, enabling you to achieve bigger spans with larger loaded dimensions. For a similar span and loaded dimension to PL8, a PL12 can offer a smaller section where the space is limited or aesthetics are important.
PL12 Glulam Beams are ideal for:
• Veranda lintels and rafters (visual grade only)
• Pergola lintels and rafters (visual grade only)
• Exposed trusses (visual grade only)
• Garage door lintels
• Deck bearers
• Deck joists
• Floor joists
• General lintels
• Rafters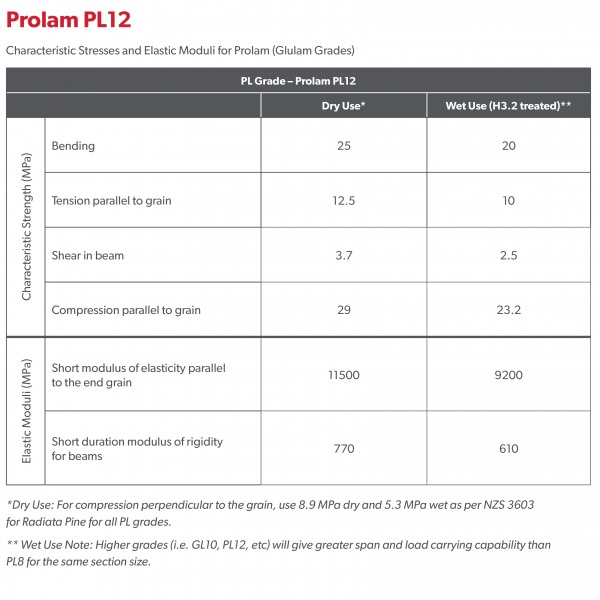 Check our FAQ laminated beams page here.

Click Here to view the full range of sizes and treatments.