A new dimension in strength, stability, and sustainability
Designed and manufactured in New Zealand, the innovative PLX20 steel reinforced laminated timber beam offers unparalleled load bearing capacity and spanning capability.
Precision engineered from quality pine with steel laminated into the top and bottom laminates for extra strength and stiffness, PLX20 allows a smaller member beam to span further, making it the ideal choice for garage door lintels and other wide structures.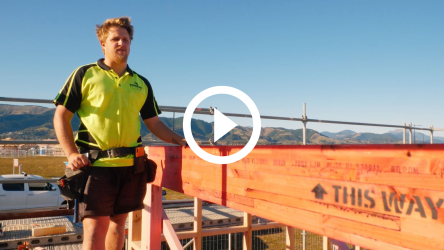 Hear what the trade has to say!
Details
Code: PLX20-250100 & PLX20-300100
Sizes: 240x90 & 290x90
Lengths: 3.6m, 4.2m, 4.8m, 5.4m, 6.0m, 6.6m
Precamber (mm) = Length (mm)/800
Treatment: H1.2
Grade: Non-Visual
Applications: Garage lintels, Ridge beams, Floor beams and Rafters
A cut above
• Up to 40% lighter in weight than alternative products
• High strength and durability
• Greater spanning capability
• Fast and easy to install
• High timber to steel ratio
• FSC certified timber options available
Prolam PLX20 is ideal for:
• Garage lintels
• Ridge beams
• Floor beams
• Rafters
The PLX20 is easy to specify on our Online Specifier, Span tables and on Masterspec.
Check out our short video on how to Specify PLX20® using the Prolam Specifier.
Check our FAQ laminated beams page here.
Request a sample or in-house demonstration here