Exposed Timber Trusses: More than structural support!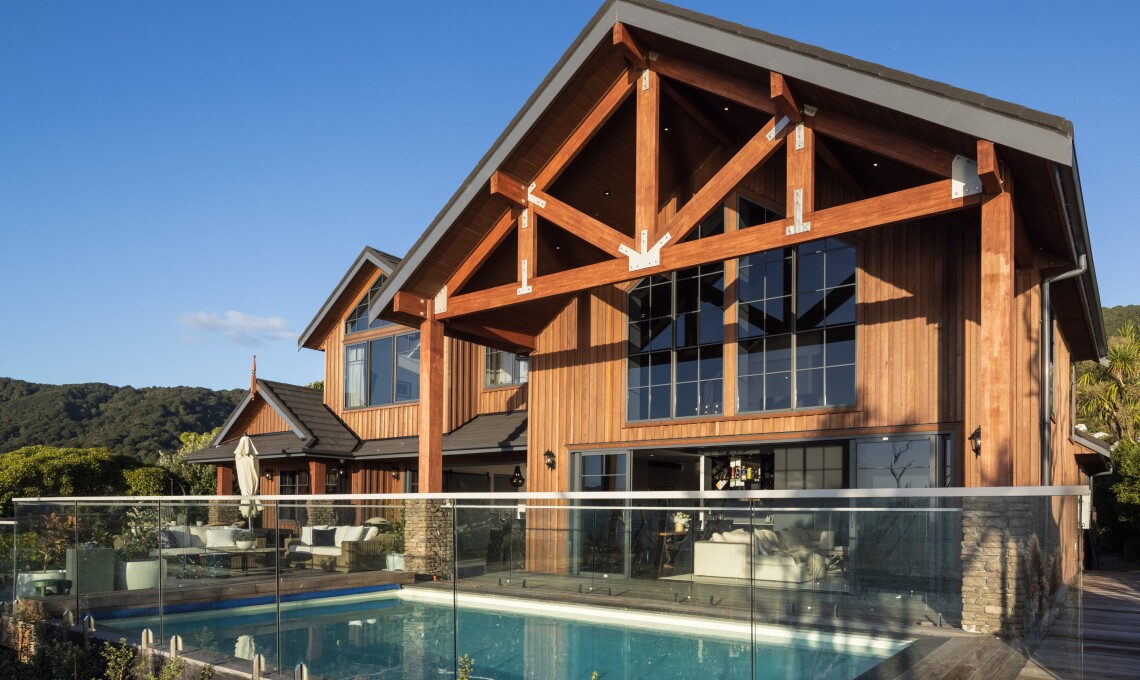 Exposed timber trusses continue to be a constant to create open, airy spaces both inside and out.
Never out of trend due to their versatile look, exposed timber trusses offer everything from form, function and a feature.
The exposed structural framework within a ceiling always guarantees something different extending ceiling height while creating visual impact.
Whether it be for residential or commercial design, they often become the key element in driving the look and feel of large living or dining rooms, alfresco hospitality and entertainment areas, and airy and naturally vibrant retail outlets.
Architectural design trends and exposed trusses
Exposed trusses can be used to great effect by architects and builders to deliver on-trend looks from industrial chic to warm and inviting modern rustic, through to minimalist elegance.
Timber exposed trusses can be combined with steel and concrete structures to give a unique visual space. Used alone they also offer a sense of relaxation and luxury, or in vaulted ceilings to create more dramatic effects.
The solution works in any open-space concept to define spaces without the need for walls; or offer the ever-popular contemporary farmhouse style.
Sustainable design trends are driving the demand for solutions such as Prolam's glulam timber Exposed Trusses not only for the look but the fact they are manufactured from renewable New Zealand plantation timber and have a low-carbon footprint compared to steel alternatives.
They are also excellent to emphasis natural light combined with large windows and skylights.
A celebration of structure and beauty: why clients like them
Clients are drawn to exposed trusses for a variety of practical and aesthetic considerations.
First and foremost is their role as an architectural focal point to generate interest and their ability to make a space captivating and unique, and most of all instil extra character.
By supporting the roof or ceiling without the need for internal columns or walls, they also allow for large, unobstructed living areas.
Interested in embracing the exposed truss trend?
Our streamlined process from specification to installation makes integrating exposed trusses into building designs easy and efficient.
Fill in the Truss Design Form and send it to us with a plan to obtain a quote through your preferred timber merchant. Place an order and we complete the PS1 Certification, manufacture the beams, draw and cut the plates and deliver to site through your preferred timber merchant.